Zehra Tatil Köyü – Standard Bunk Bed Room






Air Conditioning Service, Satellite TV, HD TV Safe (55 inh), Towels, Bath/Shower, Free WiFi, Hair Dryer, Prayer mat, Rosary, Qibla Direction Sign.Zehra Tatil Köyü Hotel, located in Fethiye Hisarönü,  welcomes its guests with the magnificent nature of Fethiye, its large outdoor pool and a peaceful atmosphere. The hotel has 76 rooms with modern decoration. The rooms have amenities such as LCD television, satellite broadcasting and wireless internet. The hotel also offers its guests facilities such as a separate swimming pool for men and women, a restaurant, laundry and dry cleaning. Our Services are opportunities for our valued customers to fulfill their comfort, convenience and religious duties.
Children are welcome at the property. Pets are not allowed. Guide dogs are not allowed. Extra beds are not provided.
Extra bed service cannot be guaranteed for our guests who stay free of charge.
Disposable cloths are used in the cleaning of our guest rooms.
Our staff working in room cleaning use masks and gloves. When moving to the cleaning of another room, the necessary materials are changed. The same conditions apply to all personnel entering the rooms.
Effective disinfectants, approved by the Ministry of Health, which are not harmful to health, are used in room cleaning. Surfaces such as door handles, batteries, TV and air conditioner controls, telephone, electric buttons are disinfected after each stay.
All paper/cardboard/mattress/leather materials have been removed, except for the bedspreads and decorative pillows in the rooms, and those that are legally required.
All textile materials come to our facility after being washed at high temperatures and for sufficient periods of time, in bags.
After the rooms are cleaned after each check-out, the rooms are disinfected and ventilated by the COVID-19 cleaning team.
The glasses in the room mini bars have been changed to disposable and new ones are placed after each guest leaves.
Air conditioner filters in the rooms are cleaned at regular intervals.
Room capacity usages are meticulously monitored and rooms are placed as infrequently as possible, and after all cleaning and disinfection processes, our rooms are ventilated and no new guests are admitted for a certain period of time.
There are prayer mats. in our rooms. After each check-in, the prayer mats are cleaned and disinfected, then packed and left in the room again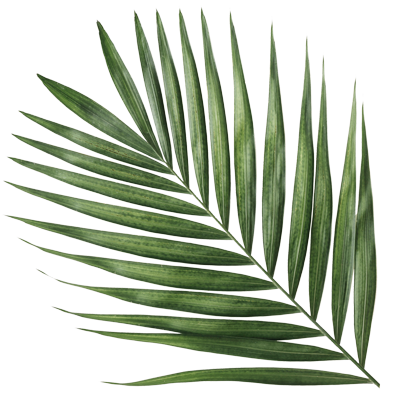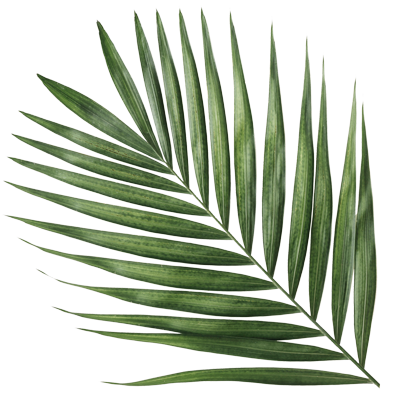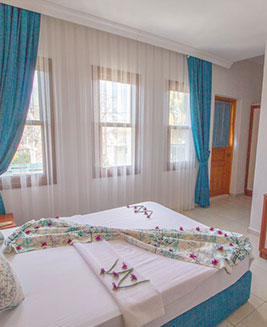 Standard Room
Standard Rooms; 25 m² in size.
Air conditioner
Bath
Free WIFI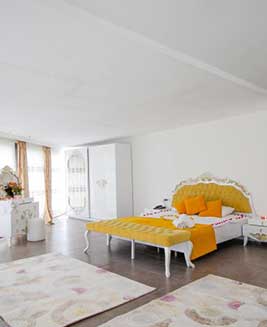 Suite Room
Suite room 40 m² in size
Air conditioner
Bath
Free WIFI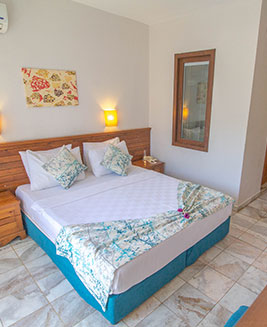 Family Room
Family room; 40 m² in size
Air conditioner
Bath
Free WIFI