Conservative hotels serving with an Islamic holiday concept are accommodation facilities that appeal to special lifestyles. You can have a peaceful holiday in conservative hotels all over Turkey, especially in the Mediterranean and Aegean Regions. Hotels that offer Islamic holidays and honeymoon opportunities in natural wonder resorts such as Fethiye, Antalya, Bodrum, Marmaris, serve in 5-star or ultra-luxury concepts. There are also conservative hotels that offer half or full board accommodation. You can have a holiday at discounted prices ,that offer early booking opportunity. You can stay in comfortable hotels suitable for your lifestyle while protecting your privacy.
Non-Alcoholic All Inclusive holiday Concept for Families
All-inclusive non-alcoholic hotels and holiday villages are comfortable facilities that serve in the concept of family hotels. You can use the hotel's pool, beach, Turkish bath, water slide and SPA center services free of charge. The services offered in the all-inclusive holiday concept are not reflected in the hotel's prices as an extra fee. Conservative hotels also have ladies-only pools and beach areas. You can enjoy your holiday by participating in the activity activities throughout the day. Children's pools and playgrounds are safe areas where your children will have fun with their peers.
You can find the distinguished tastes of Turkish and international cuisine in all-inclusive non-alcoholic hotels that offer unlimited open buffet breakfast, snacks, lunch and dinner. Apart from the open buffet, it is also possible to benefit from the a la carte restaurant service. You can safely consume delicious meals prepared with halal certified products and non-alcoholic recipes. All-inclusive concept Islamic hotels do not serve alcoholic beverages. Instead, various soft drinks and drinks specific to Ottoman and Turkish cuisine are served. You can consume unlimited delicious drinks prepared with fruit juices, coffee and tea varieties. Meals, drinks, desserts and cakes prepared by famous chefs and expert kitchen staff offer you unique tastes. All meals, snacks and drinks are prepared in accordance with Islamic methods. If you want to have a holiday with your family in an environment that suits your lifestyle, you can evaluate conservative hotel deals with a campaign. Early booking deals provide you with the convenience of vacationing at discounted prices.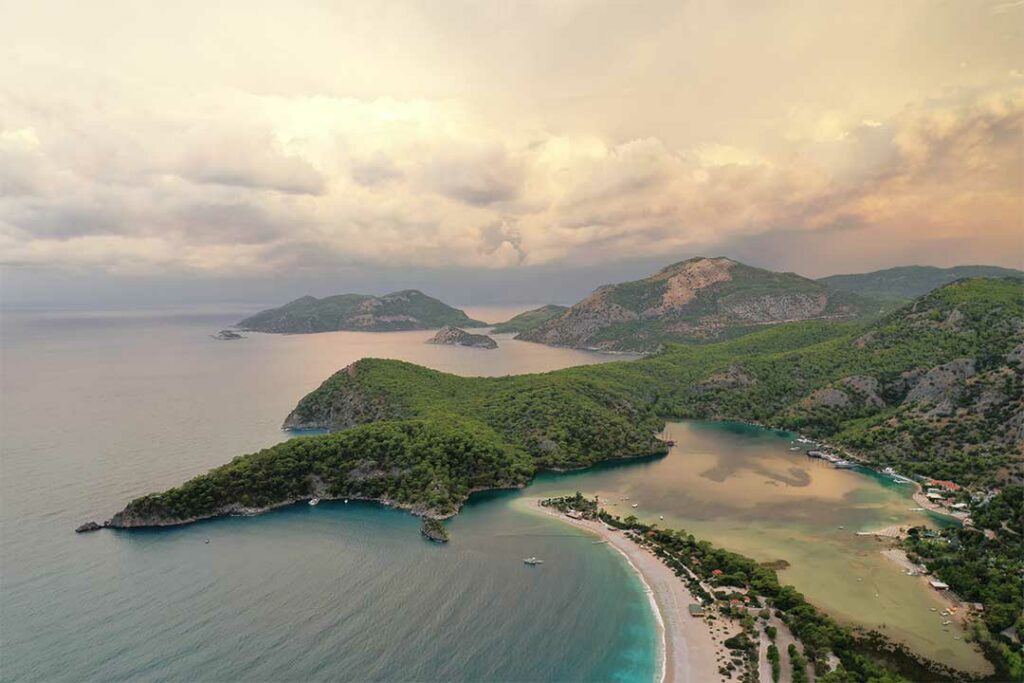 Conservative Hotels with Advantageous Price Options
You can easily find an affordable hotel that fits your style among Islamic hotels that offer advantageous payments and discounted rates. Conservative hotels that appeal to every budget give you this opportunity. After determining the region where you want to spend your holiday or honeymoon, you can browse the early booking opportunities offered by the hotels and choose the hotel you will stay in. Conservative hotels, which offer services in accordance with the Islamic holiday concept, have all the special areas you will need. You can perform your daily prayers in prayer rooms designed separately for men and women. The areas within the hotel such as the pool, beach, SPA center and cafe room are designed to provide privacy for male and female guests.
There are also beach areas consisting of lodges for families in Islamic hotels. Aquapark, mini club, water slide and pools prepared for children help parents to spend quality time with their children. You can find all the comfortable services you can find in 5-star or ultra-luxury hotels, as well as in Islamic hotels with the same concept. By choosing conservative hotels operating all over Turkey, especially the Black Sea, Mediterranean, Aegean, Marmara and Central Anatolia, you can have the chance to have a holiday that suits your lifestyle. Separate swimming pools for male and female guests are available in all Islamic resorts. However, women-only beach service is not available in all facilities. Conservative hotels with their own beach manage to offer private beach services for women. You can take advantage of the sun's rays by swimming with peace of mind on the private beaches specially designed for women.
Conservative Hotels for an Islamic Honeymoon
You can make a honeymoon suitable for your lifestyle in conservative hotels serving in the concept of honeymoon hotels. Islamic boutique hotels or holiday villages in holiday resorts such as Antalya, Bodrum, Marmaris and Izmir help you to enjoy the honeymoon of  your dreams.
 5-star or ultra-luxurious Islamic hotels located in the Mediterranean region offer special services for honeymoon couples. You can enjoy the first days of your marriage in the hotels that offer breakfast service to the room in addition to the stylish welcome service. You can enjoy the sea, sand and sun with your spouse in the private beach lodges within the hotel. It is possible to have an unforgettable honeymoon by taking advantage of the swimming pools for men and women, SPA centers and a la carte restaurant services. You can find all the comfort you need in  Islamic honeymoon hotels that offer excellent services for couples getting married in winter. You can relieve your wedding tiredness in conservative hotels, couples' private baths, saunas and SPA centers. Musical shows, entertainment and organizations prepared in accordance with the Islamic concept help you enjoy your honeymoon. You can make your honeymoon more colorful by choosing conservative hotels that offer animation and entertainment services. If you choose the alcohol-free all-inclusive concept for your honeymoon, you do not have to pay extra for social activities..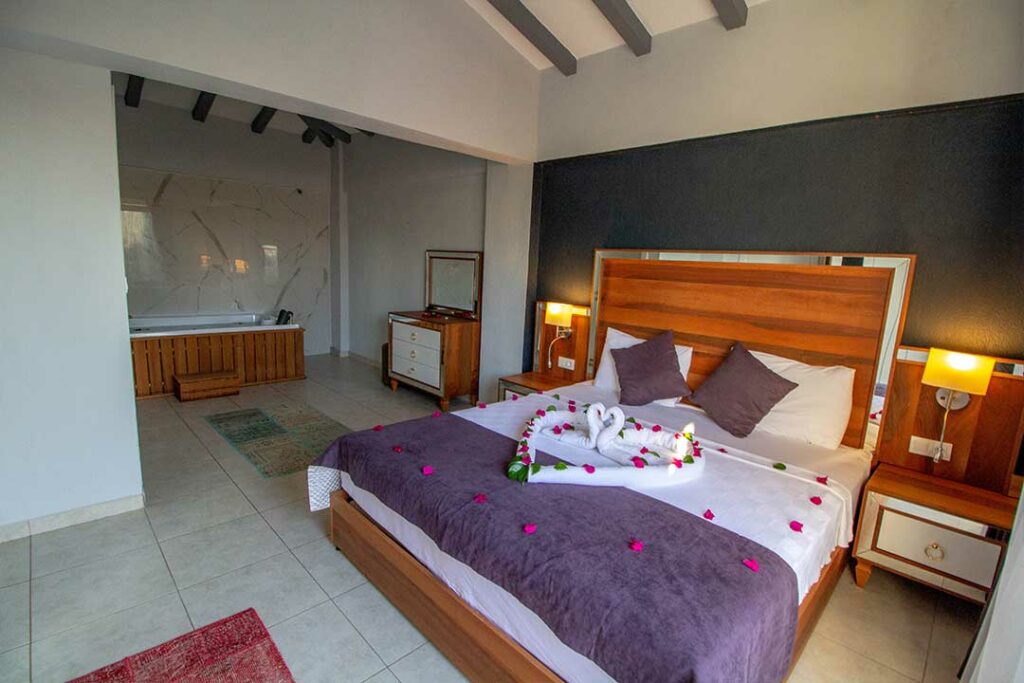 Conservative Hotels and Early Booking Deals
Conservative hotels that offer holiday opportunities in the most beautiful resorts of Turkey help you to have a holiday at discounted prices by offering early booking opportunities. The early booking process, which generally starts in November and December, continues until May, the start of the summer season. You can earn discounts of up to 50% by making early reservations for all-inclusive alcohol-free hotels, conservative resorts and Islamic hotels. You can choose between bed and breakfast, half board, all-inclusive or luxury holiday options, and you can make the holiday you want at amazing prices. Many hotels and resorts also give you the right to cancel your vacation up to 48 – 72 hours before the start of your stay. You can easily find the holiday style that suits you by examining the discounts conservative hotel prices serving in different regions and different concepts.
Four Seasons Non-Alcoholic Vacation Options
Conservative hotels serving in various holiday resorts offer their guests the opportunity to have a summer or winter vacation under the most favorable conditions. You can find holiday opportunities in all seasons of the year in Islamic hotels. Conservative hotels cater for all your holiday needs, from weekend getaways to long-term vacations. You can spend your summer holidays with your family at all-inclusive non-alcoholic hotels around Antalya, Fetiye and Bodrum. If you are planning a winter holiday, you can enjoy the ski slopes by choosing the conservative accommodation concept hotels in Uludağ and Kartaltepe. Cappadocia and Bolu hotels are also very suitable for winter holidays. Islamic concept thermal hotels, on the other hand, offer you different services and help you refresh your energy.
You can refresh yourself with bathing in the hot spring waters, sports activities, sauna and SPA massage. In Islamic hotels that offer separate areas for men and women, you can have a holiday with your spouse or your whole family. You can also make a special concept holiday program that you will spend with your friends and relatives by taking advantage of early booking discounts. There are family pools, beach lodges, restaurants, cafe rooms, sports and recreation halls in the hotels that allow you to spend quality time with your family. Conservative hotels are stylish facilities where you can have comfortable holidays at affordable prices. You can take advantage of the early booking opportunity at the conservative hotels with special offers and stay at special prices.
You may be interested in: Fethiye Conservative Holiday Villas